Teach Your Child To Fish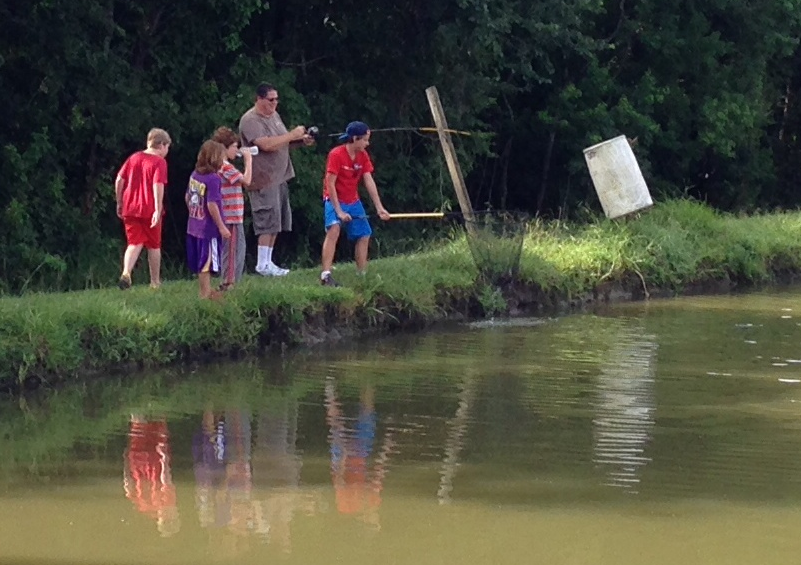 There is an old American saying: "Give a man a fish, and you've fed him for a day. Teach a man to fish, and you've fed him for life." So simple, profound, and true. If you have followed my blog for a while, you may remember some of the wonderful times and lessons my son and I have shared through fishing together. This picture is from what has become our annual trip to the catfish pond with my best friend and his three boys.  What a great time!  Laughter, fishing, smack talk, encouragement, disgusting smells – you name it.  We even netted a snake and fish that were battling each other in the water.  It was the coolest thing ever!  : )
But this post isn't about fishing. It is about teaching, training, and equipping our children and teens to be fully capable and responsible adults.  And so, we shift from fishing to typing, grammar, and punctuation.  Over the course of the last month, my ten year old son has developed an interest and enthusiasm for learning to type.  Frankly, my wife and I have been rather impressed with the zeal he has put into this pursuit, given how much he takes after his old man and hates sitting still to do homework and such.  He has even come with an extremely clever way to hone his typing skills while managing to get a bit more screen time than we would otherwise allow him.  He will watch about two to five minutes of a favorite TV show, then pause the show, go into the other room, and type up his version of what he is seeing and hearing on the screen.  And even though he is not using his own original material, we are struck by what a knack he has for detail and colorful word play.  And while he is an exceptionally bright lad in a wonderful school, he is only just beginning the fifth grade, and still has much to learn about the rules and regs of punctuation, grammar, spelling, and such.
So this week, my wife asked me to go through what he has typed up, and help him with editing and learning more about punctuation and capitalization.  If you know me well, or were my "friend" on Facebook back before I pulled the plug, you know how much I appreciate the proper use of grammar, spelling, and punctuation when sharing the English language.  The truth is, I have a certain warm fondness for the Oxford comma.  I know, chances are, you have NO idea what I'm talking about at this point.  Chances are even greater that you're thinking what a total nerd I am.  Fine.  I yam what I yam, as Popeye loved to say.  In addition to being a bit over zealous about proper comma usage, I can be *just* a bit of a control freak.  Okay, babe, if you're reading this post, please no comments on that last.  ; )  Taken together, there was the potential for the perfect storm of me completely taking over my son's work, perfecting it, and leaving him with absolutely nothing learned or gained.  Well, I suppose he might have learned to keep a bit more distance from his Dad.
Praise God (The Holy Spirit, in particular) this story goes in a very different direction.  With the nudging of the Holy Spirit, and the example of my amazing wife and the gifted teachers at our son's Montessori school, I decided to teach the lad to fish, rather than just frying some up for him.  We sat at the table, and I had him get out a notecard.  I shared with him two basic rules for capitalization and three basic rules for punctuation that should cover the vast majority of grammatical situations he will encounter.  I even had him write them down, rather than me doing that for him.  I did my best to use that patient, gentle tone my wife uses when she is teaching a child a lesson.  You should see her in action some time.  She's like the Child Whisperer, or something.  She is truly amazing!  Anyway, I talked through these basic guidelines with him, and he really seemed to take it in.  And here's where it gets shocking.  Once we had finished reviewing these simple rules, I told him he had really done well in the lesson with me, and he could take a break before actually editing his paper.  He immediately said, "No Dad, I don't think I should take a break yet.  I really want to get this."  And he proceeded to edit the paper.  Un.  Be.  Lievable!  (Don't tell my son about the rules I trampled with that little verbal stunt I just pulled.)
It would have been so much quicker and easier for me to just mark up his paper myself, and have him redo it.  But how much would he have learned?  And how much would he want to continue working with me on this kind of lesson and work?  Bear in mind, he is almost as much a stubborn knucklehead as his dear ole Dad.  I can confidently say at this point that we are both looking forward to working on more of this writing and typing work together.  He just started fifth grade this week, and he is already wanting to get prepared for the daunting challenges of middle school that await him a year from now.  And thanks to God, my wife, and his teachers, I think I just helped him take a good step in that direction.  The least I could do was pass it on to you.  Teach your children and teens to "fish."  Don't just serve it up ready to eat.
In His Grace,
Dr Butner
p.s. – Okay, you didn't REALLY think I was gonna go without sharing pictures of the crazy snake-fish battle royale, did you?