My New Lifestyle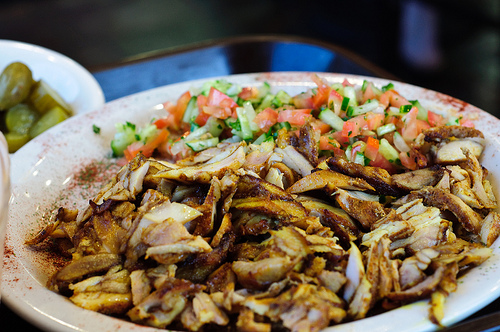 I have previously posted about my struggles with weight, food, exercise, and fitness.  I am pleased to report that by God's extravagant grace, I have begun a new life.  I won't be turning my blog into a physical fitness site, but this is certainly relevant for the spiritual journey for all of us, and I hope it is of benefit to you.  I am not trying to present this as *the* diet and lifestyle regimen you should adopt, but sharing what is working for me.  Check with your doctor and fitness coach about what is best for you…
It all started about a month ago at my doctor's office.  I knew I was overweight (no hiding that anymore), but wasn't prepared to hear that my blood pressure and cholesterol were both high enough that my conservative doc had to put me on meds for both.  He took time to educate and gently lecture me, and told me to change my ways so that in a few months he could hopefully take me off the meds.  God took this experience and pierced it deep into my heart and spirit.  I listened.  I heard.  I obeyed.  I began seeking guidance from friends who are living with more obvious fitness in their lives.  My life and body are truly being transformed.
The foundation has been surrender. Realizing that my body isn't really *my* body, but a loaner from God – provided for me to serve Him by serving others. For this reason, and because it makes me feel so much better with so much more energy and vitality, I have learned to fuel up with only high quality fuel. My fitness coach, a friend further down this road than me, told me to target between 1800 and 2000 calories a day (number depends on gender, age, goals, and other factors. I wouldn't have a clue what cal target to tell you.) He told me to eat as closely as I can to the following plan:
– protein every time I eat
– taper off carbs over the course of the day, so dinner includes very few
– try not to eat anything after dinner (after 7 pm)
– remember that eating five smaller meals a day kicks my metabolism into high gear (It TOTALLY does, by the way!)
– breakfast = 500 cals, snack = 300 cals, lunch = 400 cals, snack = 250 cals, dinner = 450 cals
I use the MyFitnessPal iPhone app to track both my food calories and my exercise. I'm drinking mostly water (no more soft drinks), along with rooibos tea, hibiscus tea, and less coffee than I used to drink. My doc told me to eat mostly foods that will spoil. That's what got me going. Learned that eating processed foods basically abuses and fools our body. We eat more because our body doesn't feel full the way it's supposed to, since it isn't getting enough real food, but having to break down a lot of junk with the food.
Also exercising on an elliptical trainer daily, usually for 40 minutes. I'm starting to incorporate some P90-X and weights into my workouts, but taking that part very slowly. At this point, I am interested in burning off the fat I have carried for FAR too much of my life and getting more generally fit – not training for the decathlon in Rio.
With this new way of eating, the only thing I feel I'm losing is fat. : ) The multiple small meals with protein keep me from feeling hungry unless I just stay up too late at night. I am eating delicious healthy foods and enjoying them more than I ever have before.
For what it's worth, these are the foods that make up the lion's share of my diet these days (but with plenty of room for other delicious, healthy, whole foods):
Chicken shawarma
Fish (blackened, broiled, grilled)
Baby spinach
Olive oil & Balsamic vinegar
Broccoli
Carrots
Greek yogurt
Kashi Go Lean cereal
Unsalted or low salt fruit and nut mix
Various delicious fruits/berries (both fresh and frozen)
Unsweetened almond milk (or almond/coconut blend)
Rooibos "red" tea (Republic of Tea has delicious blends)
Hibiscus tea (purported to lower blood pressure and cholesterol – again, Republic of Tea has several varieties)
Water – tons of water
Chicken shawarma – did I mention chicken shawarma? (Look, if this is what The Avengers like to fuel up on…)
May God bless you richly with grace, courage, self-control, wisdom, and perseverance as you move forward on your journey of physical/mental/relational/emotional/spiritual fitness.  And please feel free to share your stories here.  I would love to see this site become a forum for healthy exchange as we grow in God's grace.
In His Grace,
Roger