Using Halloween as a Creativity Catalyst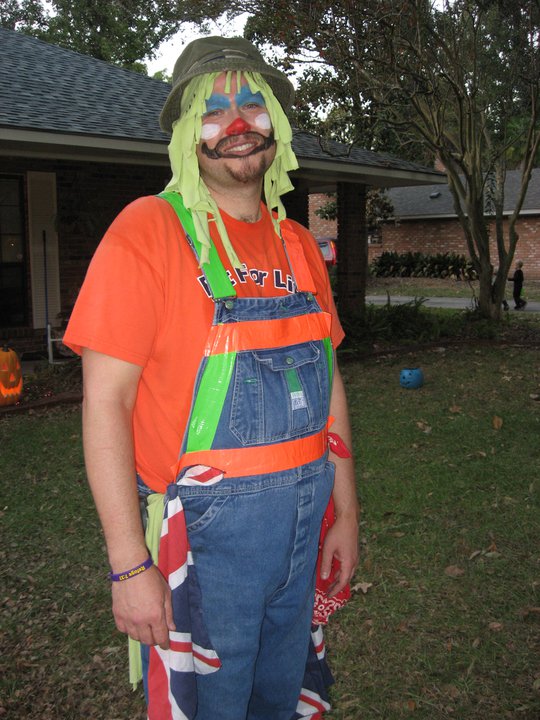 (Granted – I didn't win any costume awards a few years ago as a kind of Raggedy Andy-ish rodeo clown.  But I had a lot of fun with it, and got plenty of laughs and weird looks.  Believe it or not, I'm guy who likes to play things safe, and taking this risk was really good for me.)
Active creativity is such a powerful asset in anyone's life, and it is often the key to setting someone apart from the crowd and leading a person down a path of success and making a truly meaningful impact on the world.  While teachers, coaches, pastors, and other adults can be instrumental in encouraging creative development in our kids, no one is better positioned to do so than parents!  Ironically, this time of year, where folks are putting so much effort into looking like someone else, can be a wonderful opportunity for parents to nurture individual creativity and bold courage in our kids.
Some families encourage Halloween creativity by having kids develop their own costumes, rather than buying a pre-assembled one from the store.  But even if your family will be using purchased costumes, you can challenge your kids to add their own creative enhancements to their ensemble.  Be sure you commend them far more for their creative energy and efforts than for how "professional" is their final look.  Following directions to produce exacting results is a great life skill for math, science,  and other areas, but unless your child has dreams of being a Hollywood costume designer or special effects artist, they will benefit more from the exercise of being creative costume builders than precise ones.
Another way to encourage creativity during Halloween activities is to challenge kids to come up with the best trick-or-treat lines to use at each house.  Sure, good ole "Trick-or-Treat!" has been working for decades.  But how about finding something more clever and in-character?  Just be sure to impress upon your kids to be respectful to their neighbors.
And what better avenue is there during Halloween dress up season for nurturing creativity than using the ultimate tool of self-expression: YouTube?!?  Have a video contest for your kids and their friends while they are in full character.  Whoever comes up with the most creative and clever video wins the honor of having you post it on YouTube for all their friends to see.
It has been a tradition in our family the last several years that my son and I go with some friends to the Bluebonnet Swamp Haunted Hike in October (we went twice this year!).  Costumes are encouraged, and this year my lad decided he wanted to be a ninja.  We challenged him to see what he could produce from the materials in his own bedroom.  Incidentally, searching through his bedroom for costume materials is actually not too different from going on the actual Haunted Hike.  But I digress.  Several minutes later, he emerged from his bedroom/swamp to ceremoniously present his ninja-clad self to his Mom in the living room.  He had actually done quite a good job pulling it together, and I had offered just a couple of extra touches for him at his request (nothing like a ninja headband cut out of one of Dad's old black socks!).  My wife was duly impressed, and told him she really liked the creative way he came up with his ninja look.  Without missing a beat, Shep proclaimed, "I think a lot of kids may be jealous of my costume this year!"  Now, mind you – we don't want to raise up an arrogant, vain young man.  And with an only child, we must be careful about leading him down that kind of path.  But this wasn't that kind of comment.  It was a simple, genuine statement of confidence in the work he had put into his costume.  He knew he had really done his best, and he was eager to show off his handiwork to the crowd at the swamp.  Not sure how many jealous kids were there that night.  But I do know our home contained two pleased parents who were glad to see creativity, effort, and delightful satisfaction on display in our nine year old.