The Prodigal's Dad – Lesson One: Example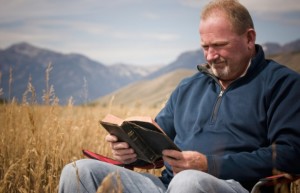 Several weeks ago, I posted an article on five lessons we can learn from the Father of the Prodigal.  At that time, I promised you five follow-up posts to explore each lesson.  Sorry it has taken me a while.  Life has been challenging for my family lately.  Sometimes, we just have those seasons, don't we?
As I mentioned before, when I read between the lines of the story of this family, it seems clear to me that the father has spent a lifetime setting an example of right living before his sons.  If his foolish and headstrong youngest son has enough clarity in the midst of a stinking pigpen to believe his father will accept him home again, it really says a lot about the powerful example of a father's life well lived.  This man had impressed his heart and character upon his son by consistently making right choices and treating people with compassion and dignity.  His son had seen this way of life reflected over and over throughout the years, and he never forgot.
The simple, yet profound, challenge for us is this: We need to aim our own daily lives at the target we want our teens and children to hit one day.  If we want them to make healthy choices in their diet and lifestyle, our most powerful tool for motivating and guiding them is our own pattern of diet and lifestyle choices.  If we don't want to see them glued to a screen all the time, we must show them what it looks like to keep our own screens in their proper priority and place.  If we hope they will one day have a great marriage, we need to show them now what that looks and feels like.  If we don't want them being dishonest, we must walk with integrity in our own tough choices.  Simple and straightforward, isn't it?  And yet, so challenging.
When I catch myself fussing at my son for not being diligent with his schoolwork, I must look at how much time I have spent playing around on my phone since we both got home.  Ouch!  Before I give him a hard time about needing to get outside and move more, I need to check how many times I've gone out for my "daily" run in the last week.  Once?  Twice?  Yikes!  If I want my son to build his life on a foundation of reading God's Word and having a daily relationship with Christ, I better be doing the same in my own life.  Why would I expect him to aim any higher than his own father?
May God bless you richly with courage, strength, and diligence as you examine your own life to see what your daily habits and choices are teaching your own teens and children.  Let me know if I can help.