Therapeutic Movie Recommendations
While some of you may still prefer reading a good book, for most of our culture, movies have become the preferred form of storytelling. Whether we are catching the latest big blockbuster at the theater, picking out a movie at the rental store with our friends, or watching our latest Netflix DVD with our family, we love our movies. Depending on the type of film, there may be a little or a lot of fantasy otherworldliness to the movie. However, in order for us to really enjoy or be touched by a film, we have to be able to identify with it in some way. The movies we most enjoy or find most inspiring are those in which we have a genuine connection with a character, a struggle, a time of life, etc.
With this in mind, I frequently recommend watching particular movies to my clients in therapy. I do this with the hope that they will identify with a certain theme, issue, or character in the film. If a connection is made, it can open up a very useful dialogue in our ongoing therapy sessions. At other times, we may not discuss the movie in our sessions, but the couple or family does so at home, in order to get a new perspective on some life issue. Sometimes reflecting on someone else's struggles can pave the way for us to deal with our own similar struggles. If you are interested in learning more about the uses of movies in therapy, you may want to check out some of the following websites or books I have listed further down the page.
Some Movies I Highly Recommend: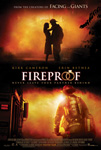 "Fireproof" (PG) starring Kirk Cameron & Erin Bethea – The folks who brought us Facing the Giants have continued to improve their craft and cast with this powerful and touching film about a firefighter whose marriage is burning to the ground.  The depictions of the kinds of dynamics that lead to marital distance and conflict are very realistic, including the impact of what our friends or family have to say about it.  Be ready to cry.  Be ready to be convicted.  Be ready to change.  Be ready to experience a marriage beyond anything you've had before.  And check out the book, featured in the film – The Love Dare.
"Spiderman 3″ (PG-13) starring Tobey Maguire & Kirsten Dunst – Of course there is the appeal of the amazing special effects and the big-screen magic of seeing favorite comic book characters come to life. But the reason I recommend the film is for its great moral messages, which are very clearly depicted and stated: 1. Self-sacrifice is so much better and more powerful than selfishness. 2. You always have the power to choose to rise above your impulses and do what you know is right. 3. Forgiveness sets you free and makes life better. Great messages, thrilling effects, "clean" storyline – take the family to see this summer blockbuster (just not the really young kids – Venom is a pretty scary dude).
"Groundhog Day" (PG-13) starring Bill Murray, Andie MacDowell, and Chris Elliot – This quirky movie is Bill Murray doing what he does best, offering lots of silly comedic laughs with an underlying level of serious reflection on life and relationships. It's good fun to watch for those who enjoy Murray's style of silliness and sarcasm. However, I recommend it for the overall theme of the film. OK, the premise of repeating Groundhog Day over and over is obviously far-fetched. However, I love the way this movie illustrates the power of attitude and its impact on the experience of our lives. There is a great contrast between self-centered cynicism, self-indulgent hedonism, hopeless despair, and a spirit of noticing and blessing others. Guess which one finally frees him from his Groundhog Day prison?
"A Beautiful Mind" (PG-13) starring Russell Crowe, Jennifer Connelly, Ed Harris, & Adam Goldberg – This breathtaking film takes you inside the mind and experiences of a man with paranoid schizophrenia. If you have been challenged to better understand the thoughts and beliefs and behaviors of someone with this frustrating mental illness, you must watch this film. From the writers, to the actors, to the editors – this film was absolutely brilliant!
"Everybody Loves Raymond" (TV series) starring Ray Romano, Patricia Heaton, Brad Garrett, Peter Boyle, & Doris Roberts – This TV series is available to rent on DVD, and I highly recommend it for couples. You will laugh at the silliness of their marriage and family life, especially when you see yourselves and how silly you can be. I recommend it as a fun way to look at yourself and your marriage with your spouse, in a fun and non-threatening way. If you are willing to really talk about it, it can open the door to some genuine growth in your marriage and family life. They must have a marriage and family therapist or two on the writing staff for this one!
"Facing the Giants" (PG) starring Alex Kendrick and Shannen Fields – This film was written, directed, and delivered by a church in Georgia that wanted to create a Hollywood film offering a realistic portrayal of the challenges and triumph of living the Christian faith. Prepare yourself for the "B" level acting (the actors are all members of the church), but prepare to be inspired by the heart and emotions of the film. A head football coach at a Christian high school has had 6 straight losing seasons, is losing key players, and is on the verge of giving up the hope of having a child with his wife. For this man, his family, and his community, victory can only come through acknowledging defeat and weakness.
"Braveheart" (R) starring Mel Gibson – This powerful epic touches the hearts of men in so many ways. In 13th century Scotland, the people are being overrun by the British. They are afraid, and feel helpless as they quickly lose their freedom to their oppressors. One man, William Wallace, dares to stand against the enemy, challenging and inspiring his countrymen to do the same. This film contains very graphic battlefield violence, as a well as a nude scene depicting a young bride and groom. With my clients, I most frequently reference the scene where Wallace first inspires the men to go forth into battle, because it captures so well the choice we often face between having the courage to fight the hard battles in our lives and taking the easier path of avoidance.
"Thirteen" (R) starring Evan Rachel Wood, Holly Hunter, and Nikki Reed. You WON'T enjoy watching this film. It is a painful look at how quickly a thirteen year old girl can lose her innocence and spiral downward into a world of confusion, danger, drugs, and self-injury – given the wrong influences and a superficial parental relationship. Only watch this one if you are ready for a disturbing look at what can go wrong in the life of a young girl today. I recommend it here, because it may be helpful to parents as an eye-opener of just how bad things really can get. I wish this film were just an extreme Hollywood depiction. However, the drama that unfolds is becoming all too common across America today.
"The Lion King" (G) starring Matthew Broderick, Moira Kelly, and James Earl Jones – This classic animated Disney film touches on some powerful life themes. I recommend this one especially for men who are struggling with fears in leading their family or facing hard battles in life. It is also a good opportunity for discussing emotional and rational recovery after grieving the loss of a loved one. A great film for challenging and inspiring yourself and your sons to take courage and be the men you were created to be.
"The Shawshank Redemption" (R) starring Tim Robbins and Morgan Freeman – This is one of the most powerful and inspirational films I've ever seen! It also contains quite a bit of profanity and depicts some very painful scenes of a man being gang raped in a prison. I recommend this film for people who feel stuck, hopeless, and helpless. This movie (based on a short story by Stephen King) is one of the best stories about the power of HOPE I have ever experienced. Pay close attention to the theme about "institutionalization" and the scene in the cafeteria after Andy spend time in solitary for playing the Mozart record. The film is really about Red, not Andy – notice the changes in Red over the course of the movie, and what brings about these changes.
"The Story of Us" (R) starring Michelle Pfeifer and Bruce Willis – A separated, on-the-verge-of-divorce couple reflects back on their years together, as a couple and a family. While there are certainly some warm feel-good moments, there are many angry, painful scenes. It's not exactly a fun ride, but gives many different slices of real life from the life story of this couple/family. Don't let the fighting and profanity stop you from getting to the powerful ending of the film. Also contains a brilliant scene depicting how our experiences with our parents impact our marriages in the present.
"Mr. Holland's Opus" (PG) starring Richard Dreyfuss – Wonderful inspirational film about a man who gets sidetracked from his life's dream. . .and ends up living a life of great value. I particularly like the scene during his first year of teaching when he is giving one-on-one music lessons to the little-red-haired girl. It's great to see what becomes of her life, in particular. It's hard to imagine her life would have taken the same course, without Mr. Holland's impact at this early, important stage in her development.
"Antwone Fisher" (R) starring Derek Luke, Joy Bryant, and Denzel Washington – The screenplay for this true story was written by Antwone Fisher, himself. After getting into trouble in the Navy for fighting on ship, Antwone is sent to see a Navy psychiatrist who patiently peels back the layers of the angry young man's life. A history of horrific abuse is uncovered, while he is currently trying to establish a dating relationship for the first time. Anyone who has suffered sexual, physical, or emotional abuse should watch the film with caution, as it may contribute to painful "flashbacks." However, watching the inspiring way in which this young man overcomes his painful past, and learns to thrive in a new life is absolutely marvelous! I literally jumped up and cheered in my living room when he confronted his childhood abusers.
"Finding Nemo" (G) a Disney Pixar animated film – This great story follows the unfolding drama of a father and son searching for one another after being traumatically separated, due to a conflict between the two of them. Visually breathtaking, brilliantly acted, and emotionally touching – this one is a must for the whole family. Dads, get ready to build a closer connection with your kids.
"Hook" (PG) starring Robin Williams and Dustin Hoffman – This film also deals with a father's relationship with his children (particularly his son). Although fantastic in its Neverland setting, it is very realistic in depicting the busyness of today's typical father, and how devastating that busyness can be to family life.
"October Sky" (PG) starring Jake Gyllenhaal and Chris Cooper – A true story about a boy with a dream to rise above the expectations of his family and community. It reminds us of what we can accomplish if we believe in ourselves, have someone else who believes in us, and have dedicated friends to walk beside and encourage us. This is another story that emphasizes the power (for good or bad) of the relationship of a father to his son.
"Rudy" (PG) starring Sean Astin – Very similar in theme to "October Sky," this true story is about a little guy with a big dream to play for his dream team – Notre Dame. You don't have to be a football fan to be moved by this true tale of determination, perseverance, and heart. Tough guys – don't be surprised if you get choked up at the end of this one.
"In Good Company" (PG-13) starring Dennis Quaid, Scarlett Johansson, and Topher Grace – Excellent contrast between the emptiness of blindly pursuing the corporate rat race versus the commitment of a working man who believes in his work and is dedicated to his family. Interesting marriage/family dynamics around the "launching phase." There is a theme throughout the film of the impact of growing up without strong parental influence, and how this deficit can be redeemed by a good mentor.
"A Knight's Tale" (PG-13) starring Heath Ledger and a great supporting cast – This catchy film uses music, style, and clever dialogue to bring you back to the 14th century days of knighthood and jousting in a way that feels very contemporary. There is a powerful theme of rising above your circumstances to greater hights, and also a great depiction of a very masculine sense of honor and courage toward the end. A great love story, action adventure, and inspiring tale.
"Miracle" (PG) starring Kurt Russell – The amazing true story about the US hockey team that beat the unbeatable Soviet team to go on and win olympic gold in the 1980 games. Wonderfully depicted themes of vision, teamwork, discipline, and hope – this one is a must see for the whole family. Also contains a great backdrop story of the ups and downs in a marriage with one spouse working toward an impossible dream.
"Matilda" (PG) starring Mara Wilson, Danny DeVito, Rhea Perlman, and Embeth Davidtz – This imaginative tale is based on the story by Roald Dahl, a brilliant late childhood storyteller. Matilda is a very special, gifted little girl growing up in a very mean, unappreciative family that despises her creativity and spark. Through the loving investment of a caring teacher, she learns to embrace her gifts and respect herself, despite her family's best efforts to keep her down. This film is a good one to deal with issues of childhood abuse or rejection, because it very clearly addresses those themes, but does so in a fantastic, non-threatening way.
"On Golden Pond" (PG) starring Katharine Hebpurn and Henry Fonda – Brilliantly acted classic film on the challenges of aging. Really helps you understand the individual, marital, and family dynamics associated with the degeneration and difficulties that accompany getting older. Never before have you heard such love in the phrase "you old poop!" If anyone in your family is struggling with aging, you need to watch this great movie.
"Lorenzo's Oil" (PG-13) starring Nick Nolte and Susan Sarandon – This true story takes you inside the painful journey of a family with a child diagnosed with a terrible chronic illness. The misery of the disease, hopelessness of the doctors, and frustration of the family is contrasted beautifully with the dedication of parents who refuse to give up hope. Their devotion and ingenuity will inspire you.
"When a Man Loves a Woman" (R) starring Meg Ryan and Andy Garcia – This film does a very good job of helping you see the relational dynamics of alcoholism within a marriage. You find yourself feeling compassionate for both of them, frustrated with both of them, and hopeful for them and their whole family. This is an excellent movie to help see alcoholism in context, how it impacts and is impacted by the relationships in the alcoholic's life.
Links for "Movie Therapy" Recommendations:
Cinematherapy.com –  Terrific clearinghouse for all things related to cinematherapy, created and managed by Dr. Birgitte Wolz, a leading expert in the field.
Cinematherapy page of University of Alabama, Birmingham – This is an exceptional website! It offers a great understanding of how to use movies for therapeutic benefit, an extensive recommended film list, a great list of books and articles, and some wonderful conversation guidelines to use with the movies.
Christian Spotlight on the Movies
Expedition Base Camp –  This growing website offers suggested movie clips that directly reflect or tie in to the various issues addressed in the powerful work of John Eldredge.
Florida Institute of Technology – Psycho Cinema
Psychotherapeutic Films suggested by Ruth Levine, MD, University of Texas Medical Branch, Galveston – This one is geared toward a very clinical audience, so you may be unfamiliar with some of the category terms.
Book/Article Recommendations:
"Rent Two Films and Let's Talk in the Morning: Using Popular Films in Psychotherapy" by John W. Hesley & Jan G. Hesley – Written for therapists, but still very useful for anyone…this book offers guidance on how films can be powerful vehicles for insight and change in life, relationships, and families. Excellent suggestions are given for using quite a few specific films to bring about therapeutic insight and change. This second edition was written in 2001, so the last few years' movies aren't included.
"Utilizing movies in family therapy: Applications for individuals, couples, and families" – This terrific article was really written for family therapists, but could be a helpful resource and guide to those interested in self-directed cinematherapy.  Includes a terrific appendix of recommended films.
"Movie Nights: 25 Movies to Spark Spiritual Discussions with Your Teen" and "Movie Nights for Teens: 25 More Movies to Spark Spiritual Discussions with Your Teen", edited by Bob Smithouser of Plugged In Magazine and "Movie Nights for Kids: 25 Fun Flicks to Inspire, Entertain, and Teach Your Children" by Paul McCusker and John Fornof – These three books offer guidance for parents on how to take family movie watching from simple entertainment to an interactional event that teaches morals and guides kids in learning how to wrestle with real life issues.
"What Can We Watch Tonight? A Family Guide to Movies" by Ted Baehr – This is a great tool for every parent's media toolbox! It offers brief, yet thorough reviews of hundreds of movies released from 1990 to 2002.
One response so far