Living the Incarnational Life
Okay, so what's a counselor doing spending all this time addressing The Incarnation this week on his blog?  Shouldn't he be sticking to his area of expertise?  Fair enough.  I've got two responses to that.
First, may you and I never forget I am a Christian counselor.  My life has been redeemed from the pit of depravity and self-destruction, and I know that my Redeemer lives in the person and deity of Jesus.  So sharing His Message of freedom is way up there on my life priority list.  I want to see everyone live with the same kind of freedom I have been given.
Second, I believe there are very relevant "counseling" implications from The Incarnation.  And it is in that spirit that I offer today's post as a conclusion to this series.  First, some scriptural backdrop:
"…Your attitude should be the same as that of Christ Jesus: who, being in very nature God, did not consider equality with God something to be grasped, but made himself nothing; taking the very nature of a servant, being made in human likeness…"   Philippians 2:1-11
"Praise be to the God and Father of our Lord Jesus Christ, the Father of compassion and the God of all comfort, who comforts us in all our troubles, so that we can comfort those in any trouble with the comfort we ourselves have received from God.  For just as the sufferings of Christ flow over into our lives, so also through Christ our comfort overflows…"  2 Corinthians 1:3-7
"When Job's three friends…heard about all the troubles that had come upon him, they set out from their homes and met together by agreement to go and sympathize with him and comfort him.  When they saw him from a distance, they could hardly recognize him; they began to weep aloud, and they tore their robes and sprinkled dust on their heads.  Then they sat on the ground with him for seven days and seven nights.  No one said a word to him, because they saw how great his suffering was."  Job 2:11-13
"…He went to him and bandaged his wounds, pouring on oil and wine.  Then he put the man on his own donkey, took him to an inn and took care of him…"  Luke 10:25-37
We are invited to join Jesus in living the power of the incarnational life.  If we are to be His followers, we must learn to live His way, and His way is powerfully incarnational.  This means it is a life of stepping into the lives of others with genuine love, radical compassion, and humble service.  It is a life of noticing the brokenness and struggles of others near us, and reaching out to offer whatever healing we can.
And you don't need an advanced degree to offer a powerful measure of comfort, hope, and healing!  There are three simple S-words you can practice to be a part of this amazing, life-giving incarnational life of Christ.
1. Sit That's right, just be available to sit and listen and be.  With a person in need.  You might be amazed at the difference you can make by letting go of the struggle to come up with just the right words or actions to "fix" your friend or "make it all better."  Just be there.  The story of Job's friends sitting with him day and night in reverent loving silence for 7 full days is one of the most profound gifts of friendship ever recorded.  Unfortunately for their friend, Job, after a week they decided to open up their mouths and "straighten him out."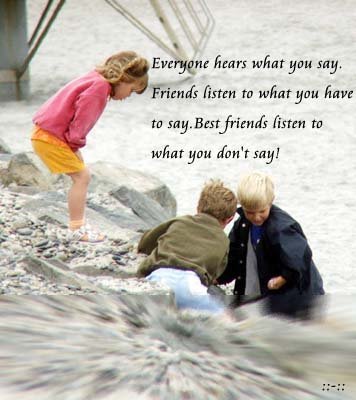 2. Serve This doesn't have to be complicated.  Just notice the needs of your loved one, and do what you can to meet those needs, without drawing attention to your service.  Cooking, cleaning, child-care, yard work, making phone calls, etc.  It isn't about fixing their problems.  It's about blessing them in the midst of their problems, and shouldering their burdens with them.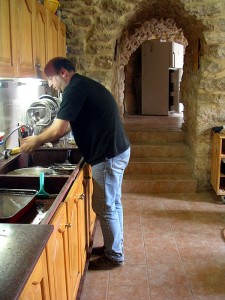 3. Share After you have earned the right to speak, through your gentle presence and your humble service, there may come a ripe opportunity to offer words of comfort, hope, and faith, based on your personal experience.  Don't try to venture into some theological territory beyond your own life and faith experience.  Just keep it real, share from the heart, and offer a few simple honest words about what has made a difference for you and what are your hopes for your friend.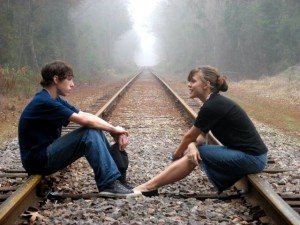 Remember, people don't care how much you know…until they know how much you care!
Has anyone been there for you in your times of need, making a difference through their gifts of presence, service, and hope?  We would love to hear your stories of experiencing the Incarnation of Christ through the people in your life!
Maundy Thursday, April 9 – I just read this interesting blog post that really illuminated the meaning of Maundy Thursday for me (I had just mentioned to my wife that I was curious what the word meant), and it really fit with this post.