Grasp the Sword!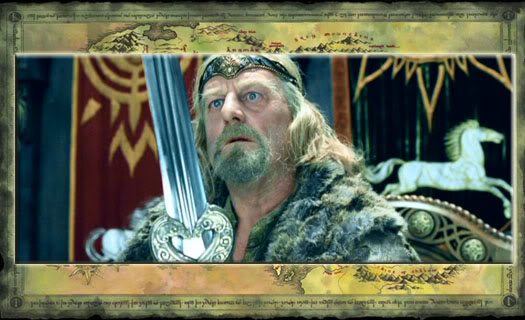 The once strong, commanding king now sits in bewilderment.  The faces of family and friends around him are deeply familiar, yet he can't quite place them.  He feels as though he has just been roused from a deep sleep.  This is not far from the truth.  For long months, a darkness and gloom has stolen over his land and his people as he has been under the befuddling spell of a sinister wizard. 
But a Friend showed up.  A Friend who was unafraid to confront the darkness that has become the effective law of the land.  More than just a friend…he is a Light-bearer.  And as Gandalf speaks commanding words of truth and power against the dark stronghold of the enemy, Theoden King is set free from the strangling spell.  The Light pierces the Darkness.  The King is transformed.  He is awake.  But waking up is not enough.  He must remember who he is.  He must know his place.  He must reclaim his authority.  And he must walk in courage and conviction if his people are to survive.  And then his Friend and Counselor gently speaks one more time…
Your fingers would remember their old strength better – if they grasped your sword.
Within moments of drawing and wielding his sword, the King begins to act with decisive authority.  He is kingly once again.  His family, his realm, and all of Middle Earth now stand a fighting chance of survival against the malicious evil that is poised to devour them.
If you have never read J.R.R. Tolkien's epic masterpiece trilogy, "The Lord of the Rings," I urge you to do your self a favor, and read it at your first opportunity.  Not a reader?  Okay, fine – at least watch the movies.  Men – seriously – this is a must do.  Okay, back to Theoden.
Do you ever find yourself feeling lost and overwhelmed in the face of life's threats and storms?  Perhaps you were once feeling very much in control and capable of responding to whatever came your way.  But things went wrong.  You were blindsided.  Or you lost a few battles.  Or you just sat comfortably for too long, and forgot how to stand and fight the good fight.  And now your kingdom is crumbling.  Maybe it's your business that is withering.  Or your marriage is on the brink of divorce – or a loveless truce.  Perhaps you've given up on trying to reach your kids.  Or you have been defeated and mocked so many times by your addiction that you have lost hope of ever gaining victory and freedom.
I have been there.  I have SO been there.  And I am deeply grateful for the Light-bearers God has sent to me to wake me up and remind me of my source of strength and authority.  So I now find great joy in sharing this hope with friends.
Jesus, our True Source of Light, speaks this bold proclamation and invitation to every one of us who is or was bound in the chains of darkness and despair:
The thief comes only to steal and kill and destroy; I have come that they may have life, and have it to the full.  (John 10:10 NIV)
God's powerful words of Truth continue:
But you are a chosen people, a royal priesthood, a holy nation, God's special possession, that you may declare the praises of him who called you out of darkness into his wonderful light.  (1 Peter 2:9 NIV)

In the beginning was the Word, and the Word was with God, and the Word was God. He was with God in the beginning. Through him all things were made; without him nothing was made that has been made. In him was life, and that life was the light of all mankind. The light shines in the darkness, and the darkness has not overcome it…The Word became flesh and made his dwelling among us. We have seen his glory, the glory of the one and only Son, who came from the Father, full of grace and truth. (John 1:1-5, 14)

For the word of God is alive and active. Sharper than any double-edged sword, it penetrates even to dividing soul and spirit, joints and marrow; it judges the thoughts and attitudes of the heart. Nothing in all creation is hidden from God's sight. Everything is uncovered and laid bare before the eyes of him to whom we must give account. Therefore, since we have a great high priest who has ascended into heaven, Jesus the Son of God, let us hold firmly to the faith we profess. For we do not have a high priest who is unable to empathize with our weaknesses, but we have one who has been tempted in every way, just as we are – yet he did not sin. Let us then approach God's throne of grace with confidence, so that we may receive mercy and find grace to help us in our time of need. (Hebrews 4:12-16 NIV)

Everyone who believes that Jesus is the Christ is born of God, and everyone who loves the father loves his child as well. This is how we know that we love the children of God: by loving God and carrying out his commands. In fact, this is love for God: to keep his commands. And his commands are not burdensome, for everyone born of God overcomes the world. This is the victory that has overcome the world, even our faith. Who is it that overcomes the world? Only the one who believes that Jesus is the Son of God. (1 John 5:1-5)
Need to regain your bearings in life? Or find real direction and power for the first time? GRASP THE SWORD! Yes, read your Bible and learn from the wisdom and truth of its pages. But don't just read a book. Seek the Source of the words in the book. You may need some specific direction in how to save your marriage or your business or your very life. If I can help with that, let me know. But I promise you this. Whatever realm of life you are trying to save and restore, you will do it best when you walk in your true identity.
Look daily to the Source of Light.  Listen daily to the Speaker of Truth.  Drink daily from the Fountain of Life. Sure, you have made mistakes. Maybe even caused a lot of damage.  So have I. But God still wants to lead us in victory. Jesus is offering you His sword of Truth and Power every day of your life. Take it from one who has been awakened and freed and granted victory over the darkness. Grasp the sword.