Family Inspiration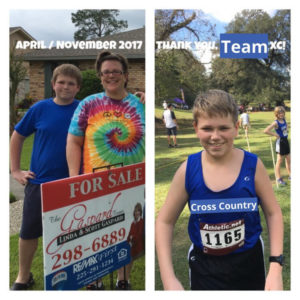 As parents, we should aim to inspire our kids whenever we can.  It isn't easy.  It takes purposeful effort.  It takes seizing the right moments.  It often takes discipline.  But our kids, from infants to teens, need our inspiration.  And counting on their inspiration to come from teachers, coaches, and pastors just isn't enough.
We parents should aim to be a primary source of inspiration in their lives.  Showing them the way to live well.  Modeling how to get up and move forward from failure.  Teaching them how to manage money.  How to manage time.  How to develop and maintain healthy habits.  How to utilize healthy boundaries.  Yes, it takes a lot of effort.  But our growing kids are better for it, and so are we.
And sometimes, the tables are turned.  Sometimes, our kids inspire us!  And when they do, they need to hear about it.  I'll not go into a lengthy narrative about my son, his fitness journey, and the impact of his school's cross country program – mostly because he would really hate that.  Just know that the picture above represents a lot of work, self-discipline, and determination in my son's life.  And the results speak for themselves.  And as I now begin training for my first ever half-marathon this January, and hopefully lose some significant weight/fat in the process, my son is my inspiration.
I'm doing my best to tell him what an inspiration he is to me, without embarrassing him or driving him crazy in the process.  Because he needs to know that he is already making the world around him a better place, even though he has not yet fully matured into adulthood.  He has within him tremendous capacity for impacting this world – for good or ill.  And I want him to know it.  And to act on it in the best possible way.  And to know that whenever he struggles, falls short, and fails (and he will – we all do), that he is good.  That his life matters.  That he is already a success in ways that really count.  And I am proud of him.  And inspired by him.  And I am honored to share the journey of growth together with him.
How have your kids inspired you?  Have you told THEM about it?